SocialScrape + Databar.ai partner up to make social media data extraction easier than ever
Extract Data from Instagram and Tik Tok with Ease Using SocialScrape's API on Databar
Announcements
by DatabarFebruary 22, 2023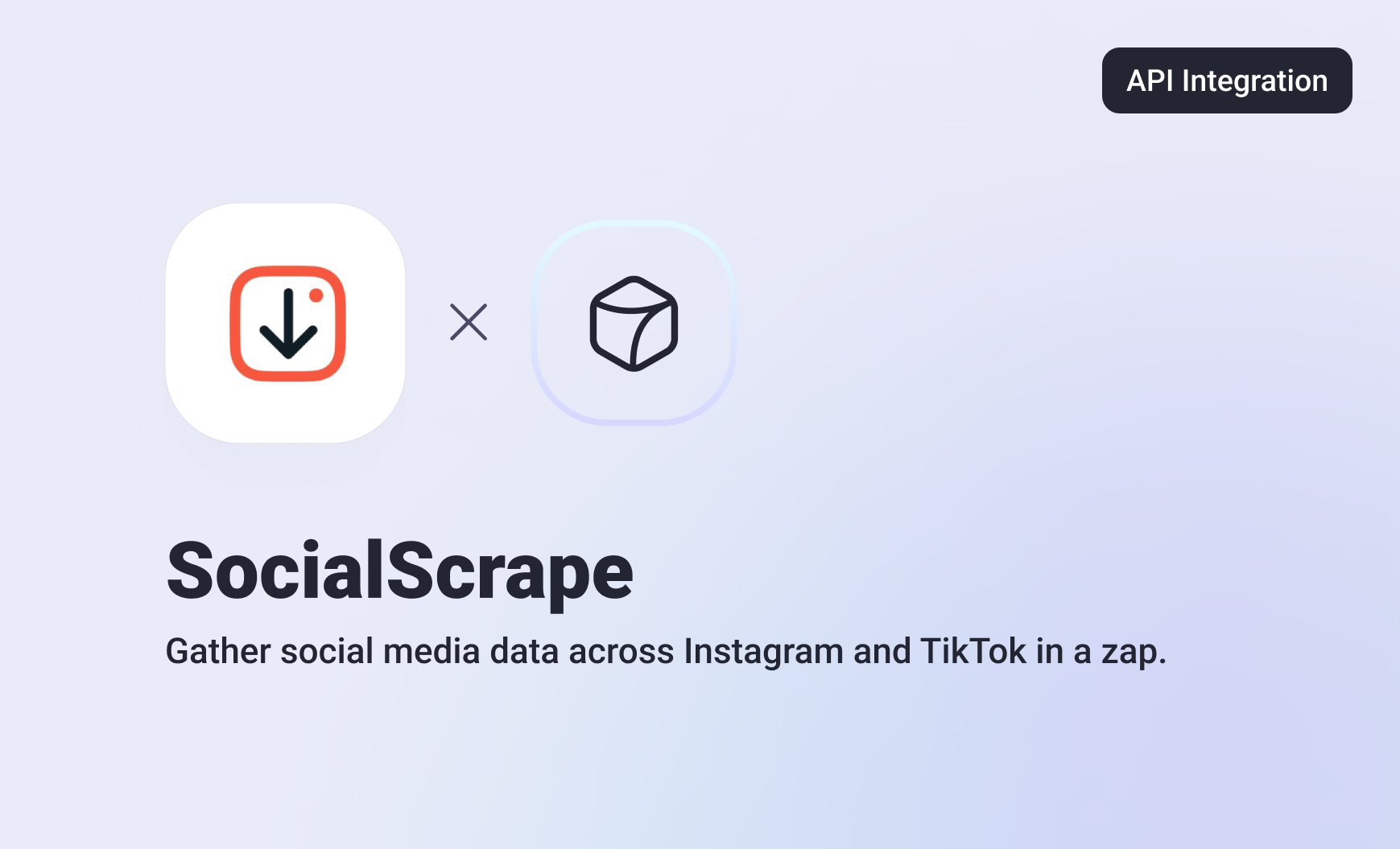 SocialScrape integration
Databar.ai is excited to announce our partnership with SocialScrape, a platform that offers an Instagram & TikTok scraper tool to extract data from these social media platforms without complex integrations, proxies, and now - without code.
What is SocialScrape?
SocialScrape is a platform that helps users find and grow their audience, connect with influencers, conduct consumer sentiment analysis, and generate informed marketing campaigns by providing reliable, real-time data from Instagram and Tik Tok. Data can be gathered via searches by accounts, hashtags, or locations. Through SocialScrape's data, users can gain valuable insights into their target audience and tailor their marketing strategies accordingly.
The Databar.ai and SocialScrape Partnership
This partnership between Databar and SocialScrape allows Databar users to access and extract data from Instagram and Tik Tok without code or technical expertise, as well as run enrichments & batch scrape jobs in just a few clicks. This will simplify and streamline the data extraction process for Instagram & Tik Tok data, making it more accessible and efficient.
Some uses cases for the SocialScrape API could include:
Influencer Marketing: Use SocialScrape's data to identify influential individuals in their industry and connect with them to promote their products or services. Gather Instagram profile data via the Instagram Profile Scraper.

Content creation: Business marketers can use this tool to gather inspiration and ideas for their own content by searching for relevant hashtags and exploring posts from other users via the Instagram Post Scraper by Hashtag endpoint.

Competitor analysis: Brands and businesses can use the Instagram Post Scraper by ID endpoint to gather data on the performance of their competitors' posts, including likes, comments, and engagement rates.
All available Endpoints
Instagram Post Scraper by Hashtag: Scrape Instagram posts for a specific hashtag.
Instagram Post Scraper by Location: Scrape Instagram posts for a specific location by location id.
Instagram Post Scraper by ID: Scrape the public data of a specific post, including data likes, comments, poster profile, captions, and more.
Instagram Profile Scraper: Scrape anyone's Instagram profile in a click.
SocialScrape is a fast & efficient Instagram and Tik Tok scraping tool. With SocialScrape's suite of APIs, you can quickly search posts and profiles by key words, hashtags, and profile ids.
About Databar
Databar is a no-code API connector that can gather and enrich data in real time through a spreadsheet UI. The site currently has a rich library of APIs which allow you to gather competitive intelligence, fuel your marketing operations, and conduct research using real-time data, including SocialScrape. For more information, please visit databar.ai.
Related articles
Your guide to APIs without code
Subscribe to our newsletter to receive updates and exclusive information on trends and updates in APIs.